One of the most attractive features of Vietnam is that although it is a relatively inexpensive country to explore, it is also one of the safest destinations in Southeast Asia.
Apart from the compelling history and culture, the natural beauty of Vietnam is reason enough to visit. As one of the most beautiful countries that you could ever see, the country boasts of a lot of gorgeous sceneries that nature has to offer; from beaches to rice terraces to mountains and breathtaking landscapes. Mother Nature has been very generous to this land, blessing with some of the most stunning landscapes you could ever imagine. Ignoring the opportunity to visit Vietnam is really a big mistake.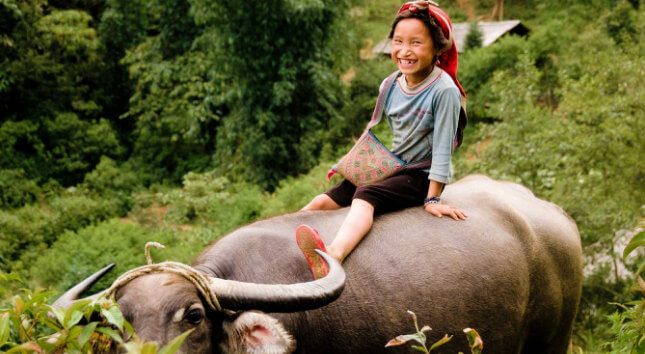 No matter what time you come Vietnam; you are always welcomed with a friendly smile.
1- WHEN TO GO
Choosing suitable time for your trip might be the first thing you think about when you have days off and plan your journey. In Vietnam there are 3 main parts of the country: the North, the Center and the South. The weather in these 3 areas is totally different. Therefore, the best time to have a trip that could fully enjoy throughout Vietnam is from December to April. Why?
Avoid storms in July and August that affect negatively to your trip (cancel or miss some excursions due to bad weather).
Avoid the rainy season in the South (from May to October).
Avoid superhot summer.
Cold and dry in the North and Center, warm in the South.
2- WHERE TO GO
With a country which is large more than 330,000 km2 with complicated terrain, there are so many destinations and attractions waiting for explorers. Below is the suggestion for first time travelers:
♥ The Northern
• Hanoi
Being the heart of Vietnam, Hanoi is a city with more than 1000 years of history and an important culture and politic center of the country. If anyone is fond of exploring deeper inside the authentic culture of Northern Vietnam and traveling back to the past of the country, Hanoi cannot be missed. There are many attractions worth visiting in the Vietnam Capital: Hanoi Old Quarter, Sword (Hoan Kiem) Lake, Temple of Literature, Ho Chi Minh Mausoleum and Museum, Vietnam Museum of Ethnology, Tran Quoc Pagoda, One Pillar Pagoda and some ancient and handicraft villages in the urban area such as: Duong Lam Ancient Village, Bat Trang Pottery Village, Dong Ho Panting Village, etc.
• Halong Bay, Quang Ninh Province
This is the most beautiful place in Vietnam – a world known UNESCO Heritage with a unique charm which cannot be seen in anywhere else in the world. Millions of tourists come to Vietnam each year just to admire the one and only landscape of a Wonder of the World here. The best way to explore Halong Bay and its beauty is by a cruise. There are hundreds cruises available in Halong Bay from budget ones to 5-star standard, always ready to serve tourists.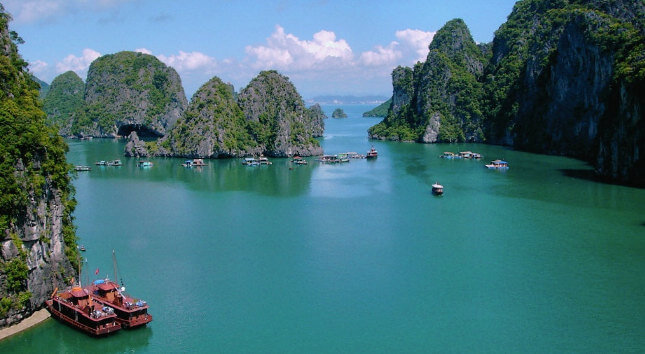 Magnificent Scene of Halong Bay
• Ninh Binh Province
These years, the number of tourists come to Ninh Binh have been increasing continuously. The most popular attraction here is Trang An which is known as "Halong Bay on land" with the stunning unique landscape just like the UNESCO heritage on the sea. For tourists who want some impressive selfie poses, Hang Mua (Dancing Cave) is the best choice for a trip to Ninh Binh. After climbing about 400-500 steps, the top of Hang Mua welcomes you with the most magnificent view of Trang An from above. Believe it or not, a pose at Hang Mua peak can easily put your Instagram on heat!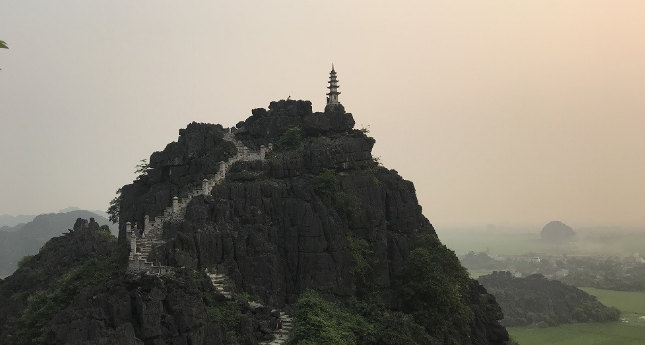 Hang Mua (Dancing Cave) - New Trend in Ninh Binh
• Sapa, Lao Cai province
The Northern mountainous area always challenges any tourists who seek for an adventure here. For people who come to this area for the first time, Sapa is a good option as it can satisfy both leisure and adventure demand from tourists. With adventurers, there are many trekking routes available in Sapa from short to long, easy to difficult which lead through many beautiful view point here and explore locals' daily life in their villages like Cat Cat, Sin Chai, Ta Van, etc. For anyone who seeks for a leisure trip, there are diverse choices for high-end accommodations with lovely precinct, swimming pool and many fancy services. Booking a tour to visit Fansipan Peak which is called "The roof of Indochina" on a cable car is also an interesting option for leisure tourists.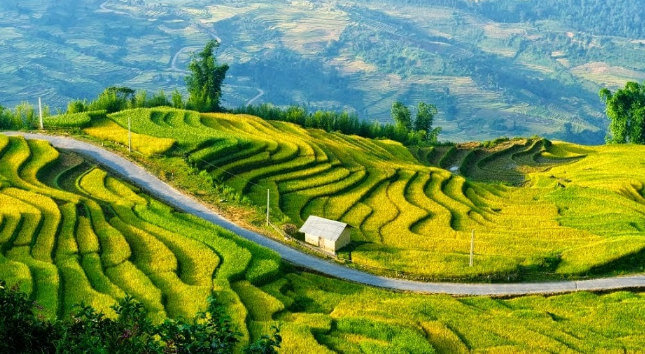 Yellow Terrace Fields in Sapa
♥ The Central
• Thua Thien Hue province
Hue was the Vietnam Capital for more than 100 years. Besides Hanoi in the North, Hue is also a big center of Vietnam history, culture and cuisine. As there are so many attractions in Hue, a city tour seems like a good choice for first-time tourists to get through the main sites with a knowledgeable tour guide who know clearly about the story behind each attraction. Some main historical and cultural sites can be suggested are: Hue Citadel, some tombs of the late emperors (Khai Dinh, Tu Duc, etc.) and Dong Ba Market. Besides, if a classic city tour sounds a little bit boring, a cruise tour on Huong River to visit the attractions on the banks like Con Hen, Thien Mu Pagoda, etc. is also a good choice.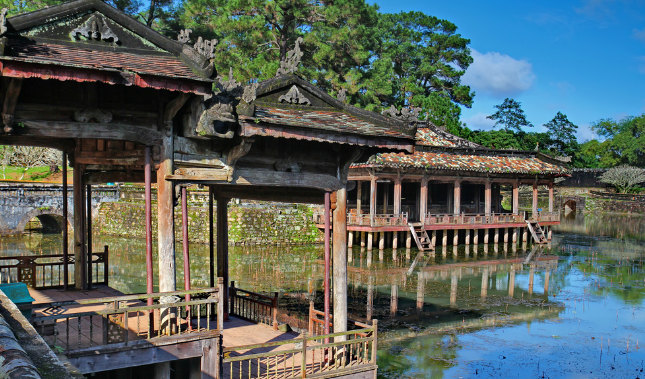 The Garden in Tu Duc Tomb
• Da Nang Province
This place is exactly the right choice for a beach holiday with one of the most beautiful beaches in the world! As the top crowded city in the Central Vietnam, Danang can satisfy the strictest guests. This ciy has one of the most beautiful beach in the world – My Khe beach and promises to provide travelers the best sun, sand and sea experience. Besides, Da Nang is also suitable for any family holiday with Ba Na Hills complex that includes amusement park, flower gardens, restaurants, hotel and many good selfie points, especial the world-known Golden Bridge. Other worth-visiting attractions in this crowded city are: Son Tra Peninsula, Marble Mountain (Ngu Hanh Son), Dragon Bridge, etc.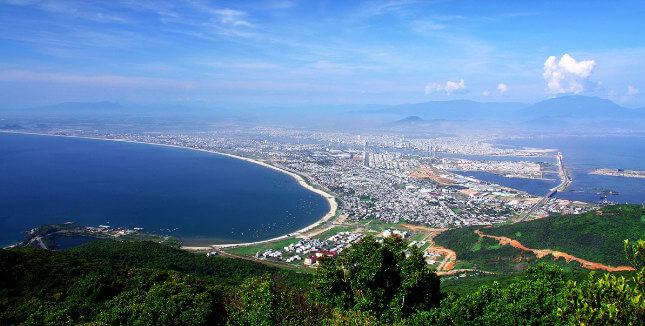 • Hoian - Quang Nam Province
This small town stays nearby Da Nang City (just 45 minutes driving) and is the perfect place for a short tranquil time after spending a few days in the hustle bustle Da Nang. Although it is not so big, this town includes many interesting attractions inside which can cost at least one day for a simple city tour in Hoian such as: Japanese Covered Bridge, Fujian Assembly Hall, many ancient houses and long streets with colorful lantern stores. In addition, a food tour is also a must-try experience in Hoian as there are many local vendors providing delicious authentic Vietnam dishes. For nature lovers, a short biking trip to nearby villages such as Cam Thanh and Tra Queis also a good choice as this is the chance for tourists to see the locals' daily life, experience the life of farmers (planting, fishing, cooking, etc.)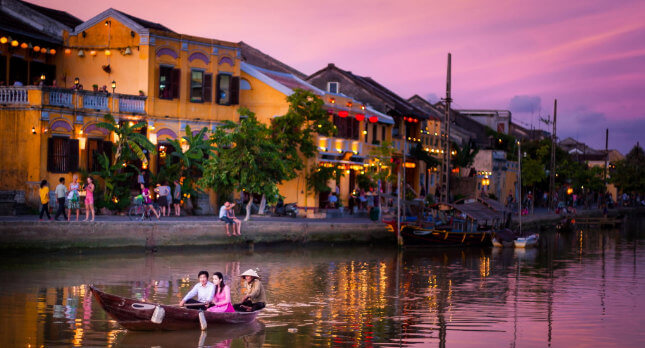 ♥ The Southern
• Ho Chi Minh City
There is no doubt that Ho Chi Minh (Saigon) is the most hustle bustle city in Vietnam as this is the most populated city and financial center of the country. Ho Chi Minh city can offer tourists many type of interesting activities from entertainment to relaxation. With active travelers who want to enjoy as much as they can, food tours by foot, bike or motorbike are always available, ready to help you travel throughout the city for the best local cuisine experience; besides, nightlife in Saigon is the best in Vietnam with many bars, pubs and local beer restaurants available in every corner of the city and the most crowded on is the Bui Vien Street where gathering most of the tourists here. On the other hand, for some travelers who want a more relaxing trip, a city tour in Saigon through the main attractions here can be considered. Some attractions should be visited are: Reunification Palace, War Remnants Museum, Notre Dame Cathedral, Saigon Central Post Office, China Town, etc. Besides, for travelers who have time, a half-day tour to Cu Chi Tunnels is also a good choice to know more about the wartime of Vietnam in a more interesting way.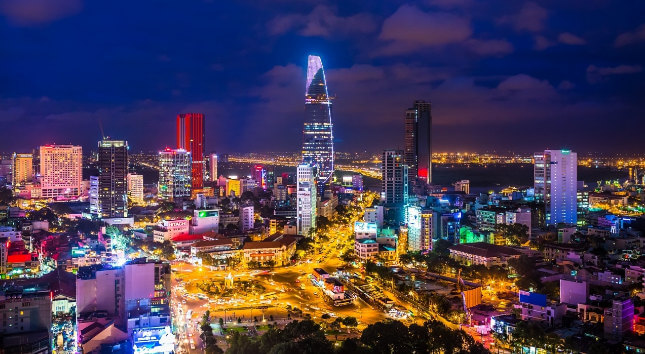 • Mekong Delta
Not so far from Ho Chi Minh City (Saigon) is the Mekong Delta which is less crowded than the financial center but still attractive in its own way. Mekong Delta has different lifestyle from other parts of Vietnam as people here live on the Mekong River, earn their life from it. For travelers who are short of time, a full-day tour is enough to have the general view of this area. However, to explore deeper in the local culture here, a trip for at least 3 days will make sense. Your journey in Mekong Delta may include some attractions such as Cai Rang floating market, fruit gardens, specialties factories (coconut candy, rice papers, etc.), paddy fields and many villages by river bank.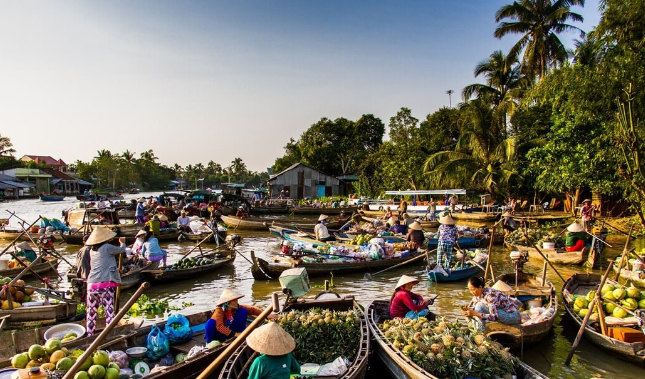 Crowded Floating Market on Mekong River
• Phu Quoc Island, Kien Giang province
Phu Quoc is the biggest island in Vietnam and called "Pearl Island". This place is a new trend in Vietnam and very popular among leisure tourists who want a totally relaxing holiday with only sun, sand and sea. There are many resort from budget to high-end ones to serve the needs from tourists, but normally, people choose to stay at resorts on Tran Hung Dao Road, near Duong Dong Town Center as it is so convenient to get to a good bar, pub or restaurant here and most of these resorts have private beach or near the beach. Some suggested attraction here are Ho Quoc Pagoda, Phu Quoc Prison, Phu Quoc National Park, Sao Beach, Duong Dong Night Market, black pepper gardens, fish sauce factory, pearl farm, etc. and if it is a family holiday with kids, Vinpearl Land and Vinpearl Safari Phu Quoc are the best choices!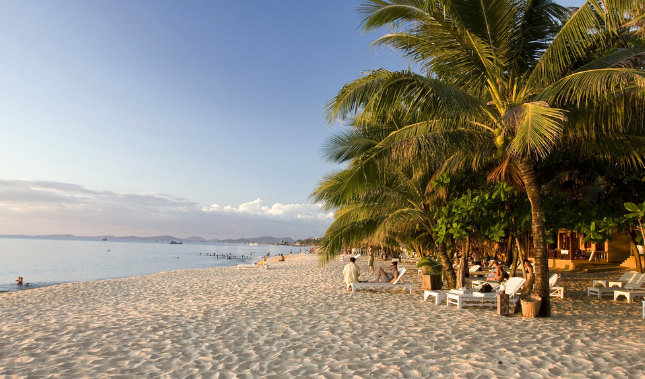 Beautiful Sao Beach (Bai Sao) in Phu Quoc 
3- CURRENCY & MONEY
The currency of Vietnam is Dong.
Newest update for exchange rate is: 1 USD ≈ 23500 Dong
Enter Vietnam, you can exchange money in the airport or banks. Please remember that after the payment, the note you received must remain intact, not torn and too dim. Additionally, with your dollars, you have to make sure one more thing that there is no stain or text on it. The bank will not accept or exchange it with lower rates from the store or the hotel so you cannot make the payment with them.
In case you do not like using cash, you should still exchange a little because Vietnamese still preferred using cash, only restaurants, hotels and modern convenience stores have the POS for people who pay by card, but you have to pay the bank fee is 3 - 3.5% for using the credit card. Visa, Master Card is the most common type of cards in Vietnam. In addition, you can use Amex or JCB. Maestro, Cirrus and Plus will be more difficult to make the payment. It is better if you can check with the seller before buying or using service that they accept credit card or not and the exchange rates they will use.
* NOTE & TIPS:
- You should ask for the price before buying anything or use any service (for example taxi, street food, drinks, etc.).
- One local coffee has price from 25000 Dong (about $1.2). One local meal (such as Banh Mi, Bun Cha, Banh Cuon, Pho, etc.) has price from 40000 Dong (about $2). One meal in restaurant has price from 250000 per person (about $11).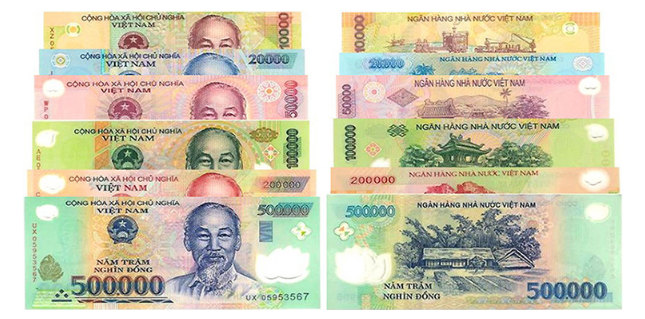 Vietnam Dong
4- PASSPORT & VISA
To enter Vietnam, you will need to bring your passport that is still valid for at least 03 months after the date you enter.
A valid visa is required for citizens from most foreign countries come to Vietnam for any purposes. Residents of some countries who have a visa exemption agreement with Vietnam do not need to get a visa to Vietnam for a certain period of time and with specific purposes. And also not all travelers who require a visa to Vietnam are supported with visa on arrival. Hence, make sure whether you need a visa to Vietnam or not and are supported with visa on arrival.
Nowadays, there are two available ways to obtain a visa to Vietnam: apply for visa at a Vietnam Embassy or apply for Visa on arrival. Of course, visa on arrival is more convenient and less time-consuming, but please notice that, it is only applicable for those who travel to Vietnam by air. By applying Vietnam visa online, you can receive your Approval Letter before you leave home, which will simplify your arrival and save time.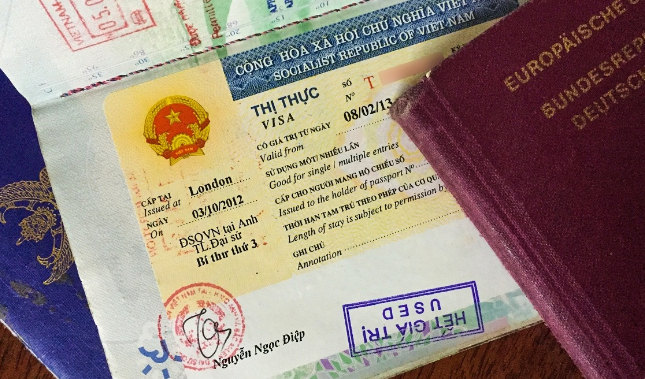 Get Vietnam Visa now is very easy
5- WHAT TO BRING
• Personal papers: Passport, Vietnam Visa (if required), travel assurance, flight tickets, all travel confirmation vouchers, photos of passport in separate place, last updated information for your trip.
• Clothing and luggage: Depend on the period time of travel, you can bring suitable clothes. Light jacket, comfortable shoes, convenient clothes are recommended as you will explore different zones with different weather and temperature. Do not just bring shorts and too revealing clothes because they are not allowed at pagodas and temples here.
• Money: There are ATM machines available everywhere, so you do not need bring too much cash. You can withdraw cash from them with the good exchange rate. Keep lots of pence in Dong to buy small things or pay for transportation.
• Personal items: Travel hair dryer, bath towel, shaving equipment, brush & tooth paste, etc. You can bring it from your home, or you can buy it from many convenient stores when you arrive in Vietnam. These things often set up in most of hotels/hostels in Vietnam. The good idea is always carry toiletries in your daypack when you have an outside day.