Wondering what to do in Ho Chi Minh city in 3 days or more? You'll be amazed to know countless things to do in Ho Chi Minh, Vietnam. Here are some super – exciting things that you should not miss out on your visit to Ho Chi Minh.
1- Explore the Mekong River & Delta on a boat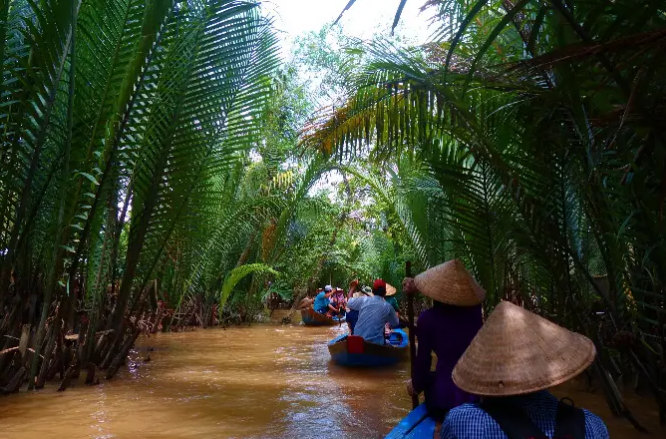 What's better than starting your journey by exploring the scenic beauty in a Ho Chi Minh tour. Start from the city on a minivan or a bus and head to the Mekong Delta and My Tho & Ben Tre Islands.
You'll be mesmerized by the views you come across on the way: the green rice fields and picturesque rural setup are sure to leave you speechless. Sail over the mighty Mekong river on a motorboat. Walk or cycle around the Island village. In short, get closer to nature on the very first go.
2- Crawl through the Cu Chi Tunnels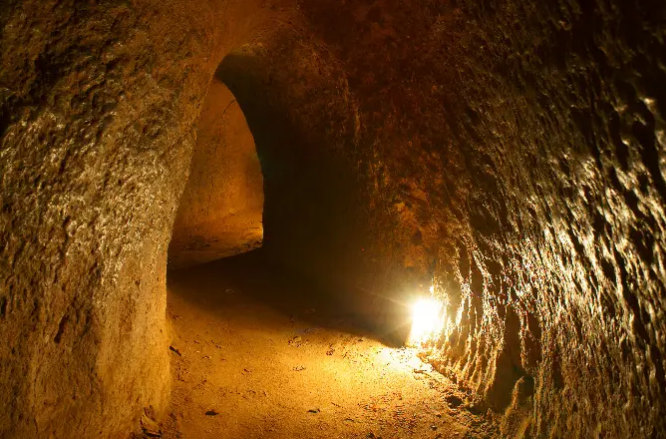 Have you ever toured a city through a tunnel? Cu Chi Tunnel tour is an exclusive chance for you to be in a space which was extremely relevant during the American War. You will be awestruck to see how these tunnels are interconnected to each other. This is something you won't get to do in many tourist places.
Note that this is not an ideal place to visit if you suffer from claustrophobia as the tunnels are very small indeed.
3- Engage in local entertainment at Saigon Opera House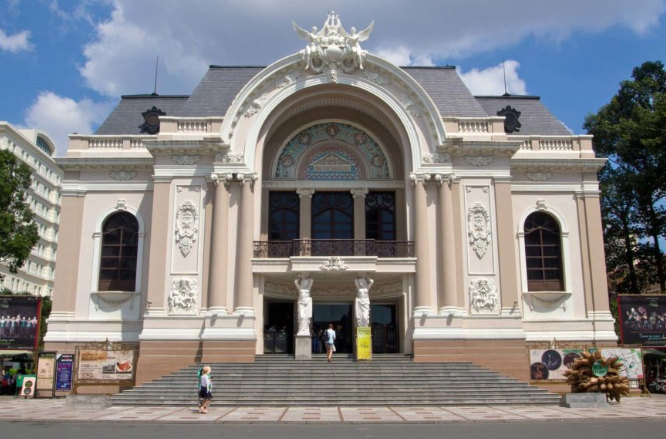 If you are the kind who love to add that extra spice to your tour with art and entertainment, head straight to the historic Saigon Opera House. Enjoy Vietnamese style of performing art mixed with acrobatics, theatre, and music.
Vietnamese folk music played with 17 traditional instruments in the AO Show and The Dar Show, which is a live performance of energetic rhythm with tribe instruments are just brilliant. This is one of the interesting things to do in Ho Chi Minh City at night.
4- Ho Chi Minh City Hall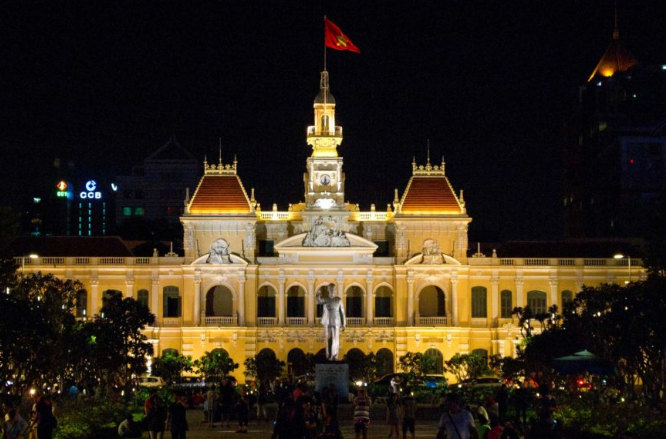 Another magnificent building in French style is the former Ho Chi Minh City Hall. The impressive hall was built in 1906 and is today the working place for the Vietnamese People's Committee
In front there is a statue of Ho Chi Minh president and a huge square, which leads down to the river. However, during the day you won't find lots of shady spots on the square and therefore it is pretty empty. But as soon as the sun sets, the square comes to life – just like the rest of the city.
5- Tour the War Remnants Museum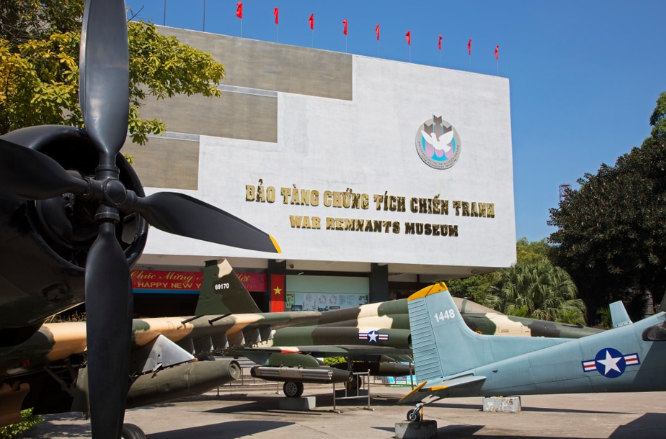 The War Remnants Museum is one of the most moving sights in Ho Chi Minh City and is dedicated to educating visitors about the atrocities of the Vietnam War.
This is one of the most popular museums in all of Vietnam and more than half a million visitors come here every year.
Some of the items on display include old military vehicles like Huey helicopters as well as attack bombers and M48 Patton tanks.
Inside you will also find personal memorabilia of victims of the war as well as old photographs.
6- Shopping and eating at Ben Thanh Markets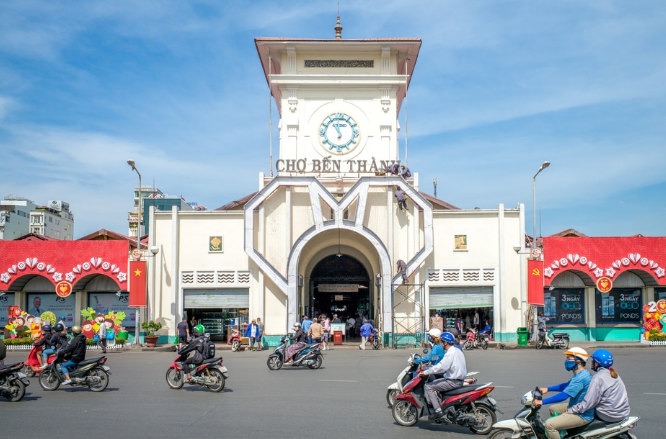 Ben Thanh Market is located in the center of Ho Chi Minh City and is a great place to come to shop and eat.
On a visit to the market you will find a range of street food vendors selling local snacks, as well as a dry area where you can pick up some souvenirs.
You can also shop for items like local textiles and ceramics although bear in mind that haggling is expected so don't be afraid to bargain hard.
7- Visit Notre Dame Cathedral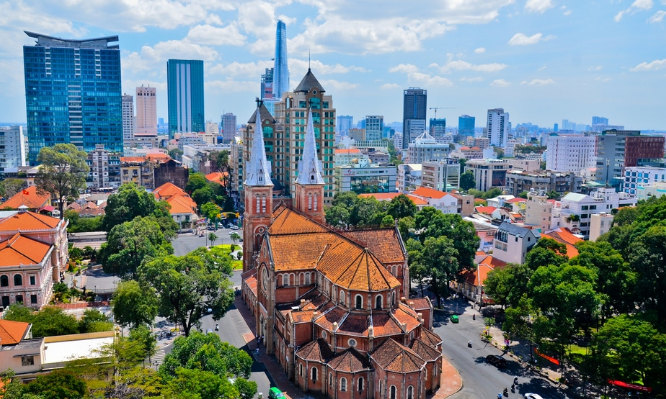 Built by a French colonist between 1863 – 1880, Saigon Notre-Dame Cathedral, is located in the downtown of Ho Chi Minh city. The church is an architectural masterpiece with two bell towers reaching a height of 190 feet.
Interestingly, in October 2005, the Virgin Mary statue placed in front of the cathedral was reported to shed tears which attracts a massive number of tourists to the site. Another architecturally explicit place in the city is the nearby Saigon Central Post Office. This huge building looks nothing less than an ancient ballroom from inside.
8- Reunification Palace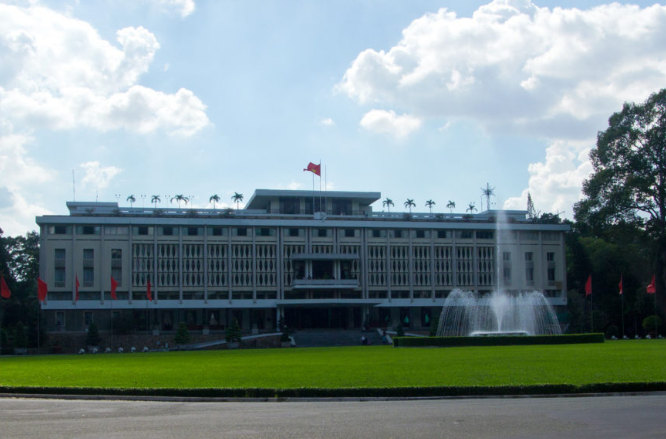 The Reunification Palace, also known as Independence Palace, is today not only a museum, but there are still meetings and events held by the government. It's also the place where the end of the Vietnam War was decided.
The palace is one of the most visited sights in Ho Chi Minh City. On the inside you can take a look at many rooms with the original furniture like chairs or tables. The basement with some control rooms etc. is also worth seeing.
The Reunification Palace is open daily from 7.30 to 11.00 A.M. and from 1.00 to 4.00 P.M. You can also explore the Reunification Palace in combination with the Notre Dame Cathedral, the War Remnants Museum and Binh Tay Market on a day trip in Ho Chi Minh City.
9- Explore the Fine Arts Museum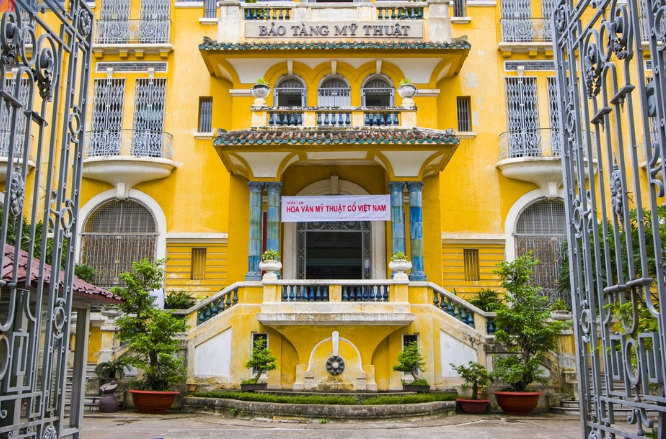 Located in a colonial style mansion, the Fine Arts Museum is a great place to come for anyone who is an art lover.
This charming museum features a range of Vietnamese art work that dates from the Bronze era all the way to the present day.
Just some of the galleries that you can enjoy here include pottery, ceramics, sculpture, and paintings, and you will even find an exhibition that is dedicated to displays of ancient weaponry.
10- Tour the Ho Chi Minh City Museum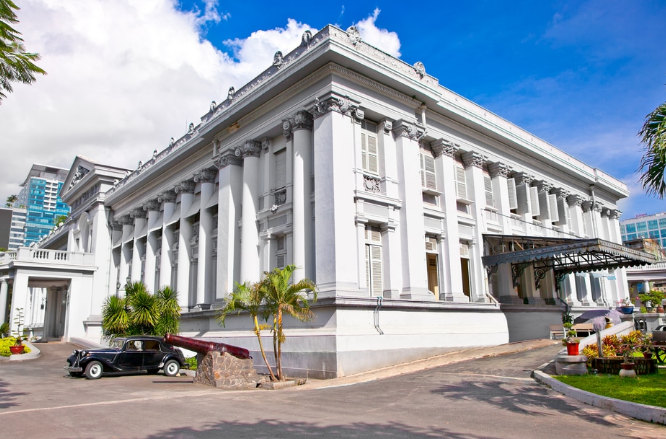 The Ho Chi Minh Museum was built in 1885, although at this time it would have been known as Gia Long Palace, and then as the Revolutionary Museum.
This is widely said to be the grandest building in the city and this is the place to come to learn all about the culture and history of Ho Chi Minh City.
Just some of the collections on show include ceramics, ancient maps of the city, and marriage costumes that belong to the various ethnic groups in Vietnam.
As you would expect, there are also galleries dedicated to the history of the Vietnam War.
11- Engage in a visual treat of Water Puppet show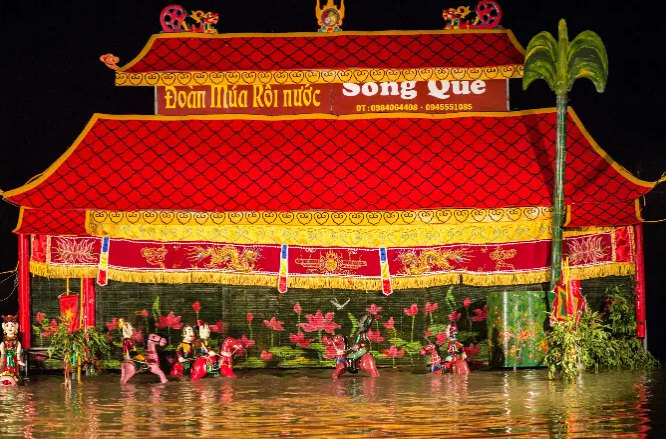 The 45-minute-long Water Puppet Shows tell stories of Vietnam in an absolutely fascinating way. Stories that are closely associated with the spiritual life of Vietnamese is performed on the surface of a water pool.
The puppets are handles by skilled artists through bamboo sticks and strings under the water. A traditional Vietnamese orchestra gives the musical support. Do not miss the water puppet show at the Golden Dragon Water Puppet Theatre.
12- Try some tasty – crazy street food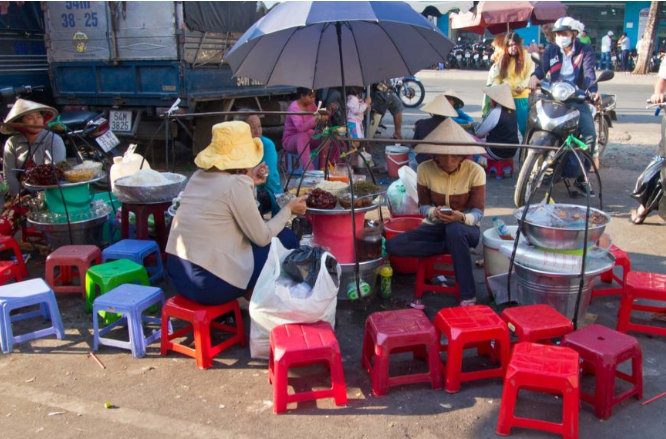 The best way to taste the city left-right-and-center is on a motorbike or on foot. This way you can explore the local, famous and not much-known street food restaurants. Dong Khoi is a lively stretch of shops and bars where you can find a wide variety of street food.
One of the best things to do in Ho Chin Minh City is trying the local dishes including Vietnamese pancakes, Pho, Broken rice, Vietnamese baguette, steamed rice roll, duck noodles, Vietnamese coffee and coconut juice. You may also get to taste some daring dishes like fertilized duck eggs, fermented scorpion wine, and deep-fried snake dishes.
13- Try a hand in cooking at Vietnamese Cookery Centre
Vietnam is famous for its delicious food and Ho Chi Minh City is no exception. Established in 1999, Vietnamese Cooking Centre is the country's first professional cooking centre that offers lessons to tourists and professional chefs.
Located in the French Colonial-era building on Dong Khoi, the morning classes start with chef-instructor guiding and taking the participants through Ben Thanh Market guiding then about the local ingredients required for the day's menu.
The cooking lessons take about 3 hours, during which you can learn to create classic Vietnamese dishes like fresh spring rolls, caramel pork in a clay pot, lotus-stem salad, etc. Take a cookery lesson as a souvenir before leaving the city. The cooking classes are exciting for those who are looking forward to some interesting Ho Chi Minh City activities.
14- Take a SaiGon River Cruise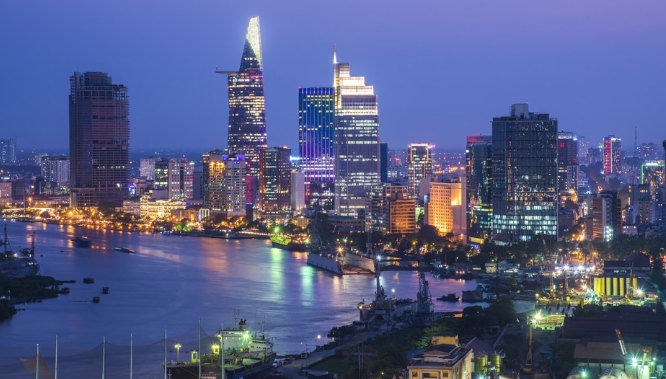 If you want to take in the city from the vantage point of the water, then head for a SaiGon River Cruise.
Here you will get the chance to join a boat ride that includes dinner and takes you back to the days of elegant cruise dining.
The boat is actually a traditional dragon boat that dates from the 19th century and they serve a buffet dinner complete with live music
15- Have breakfast at Binh Tay Market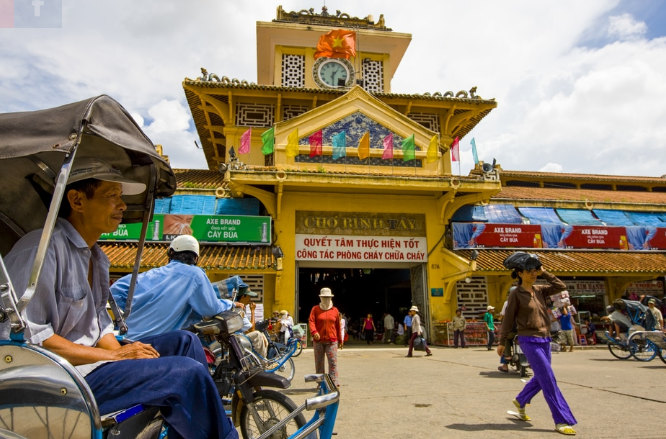 Binh Tay Market is located in the Cholon district of Ho Chi Minh City and you will find a large clock tower here as well as a central courtyard.
The market was built in the 1880s during the colonial period and you can go for a walk and try out the food stalls here.
These include local dishes like noodle soups or you can just stop by for a coffee. If possible, try to come early in the morning to take in the bustling atmosphere.
16- Have a drink in Pham Ngu Lao Street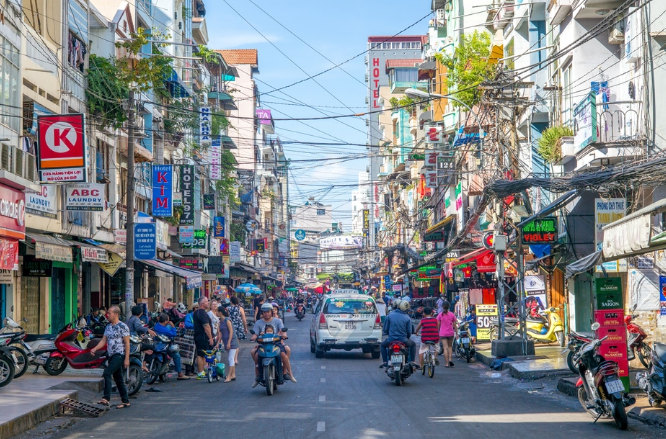 If you are looking for some nightlife in Ho Chi Minh City then you need to head for Pham Ngu Lao Street.
This is the central bar and cafe hub of the city and you will find a huge range of watering holes here if you fancy a cold drink at the end of a long day's sightseeing.