To enjoy your trip in the most interesting, you have to check-in these 14 most beautiful tourist destinations to visit in DaNang as below.
1- My Khe Beach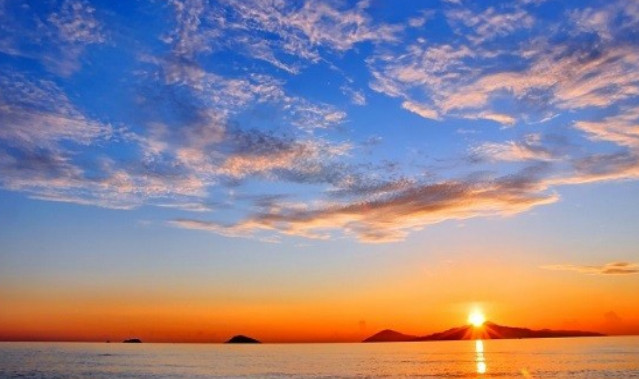 Speaking of tourism in Da Nang, My Khe Beach is one of the most popular destinations to visit. My Khe Beach in summer brings back the beauty that can make you wish to be able to see every day: the beauty of freedom, of a peaceful and desolate sky and deserving to be one of the most beautiful beaches on the planet. This is one of places to visit in Da Nang that no one does not come and check in when coming here.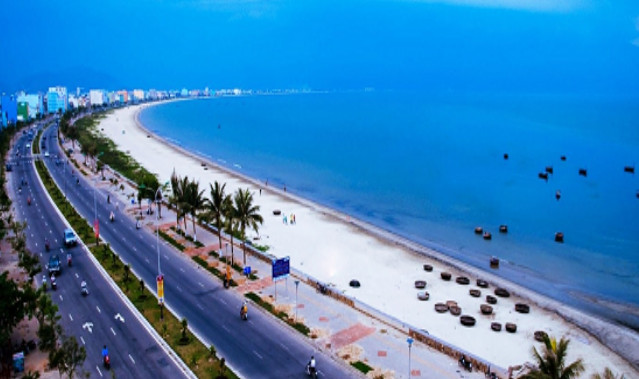 My Khe Beach is not only beautiful, but is also the cleanest beach in Vietnam when Da Nang government extremely focuses on the quality and environment of the sea. Regarding to its romantic and authentic beauty, travelers appreciate My Khe Beach every summer. You will be surprised with this beach when coming here the first time, because nowhere in Vietnam has this kind of beautiful landscape like this.
2- DHC Marina with Carp Statue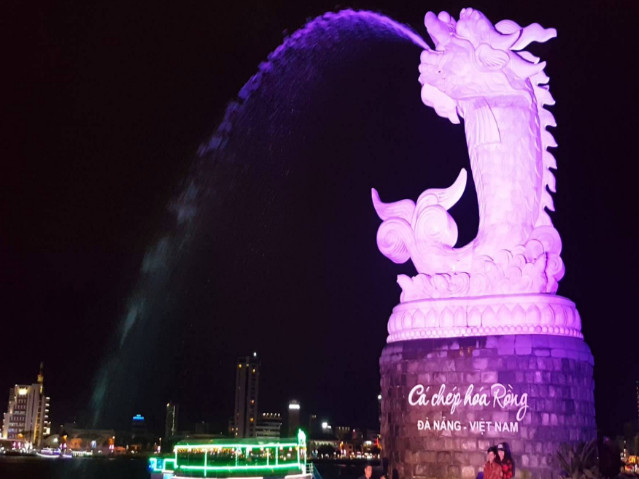 DHC Marina, the best Da Nang place of interest for sightseeing and dinner
Known as one of the must-go places to visit in Da Nang, DHC Marina with Carp Statue is where you can go sightseeing and then have dinner at Happy Yacht Restaurant in Han River. It has been told that Carp Statue is a symbol of peace that brings the happiness to people according to a legend in the old time, which makes the tourists kind of curios. It is very beautiful to see Carp Statue under the sunset with all the last sunlight going through the water coming from the Carp's mouth.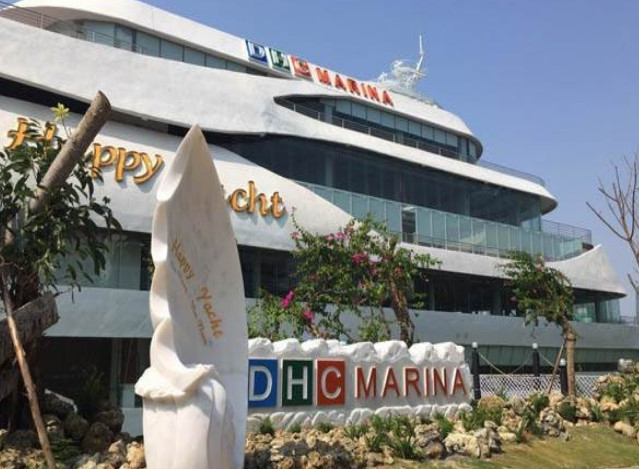 After go sightseeing at Carp Statue, you have to go to Happy Yacht Restaurant to enjoy dinner with hundreds of delicious dishes from all the regions of Vietnam. Happy Yacht is not only famous for the cuisine but also for the view overlooking Han River and the city center. You will have a special and romantic dinner there when coming with your lover. 
3- Nui Than Tai Hot Springs Park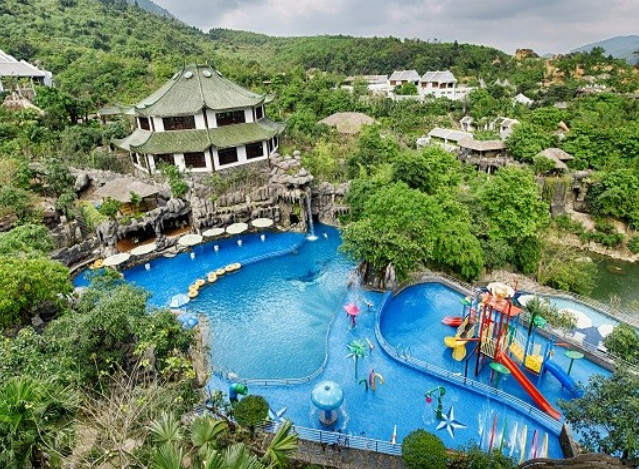 One of the hottest destinations to visit in Danang this summer
Thousands of tourists coming to Nui Than Tai Hot Springs Park this summer proves the heat of Hot Springs Park. Located in the middle of Ba Na Nui Chua Nature Reserve with magnificent mountains and forests, Hot Springs Park is extremely convenient for tourists to be able to discovery the beauty of this place. Hot Springs Park has become one of the local places to visit in Danang Vietnam and is impressed by the tourists from all over the world with hot mineral baths, Water Park, mud bath, tea-bath, coffee bath, Jacuzzi massage… Especially when coming here, you can also take beautiful photos at any spots.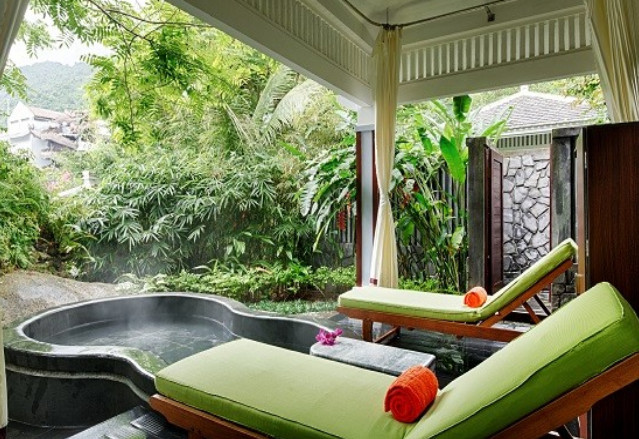 Well-invested and being taken care carefully from modern infrastructure to quality service, Nui Than Tai Hot Spring Park will provide a comfortable, health and fitness retreat for you and your family. It deserves to be one of the best places of interest in Danang Vietnam that you have to visit once in your life.
4- Tien Sa Port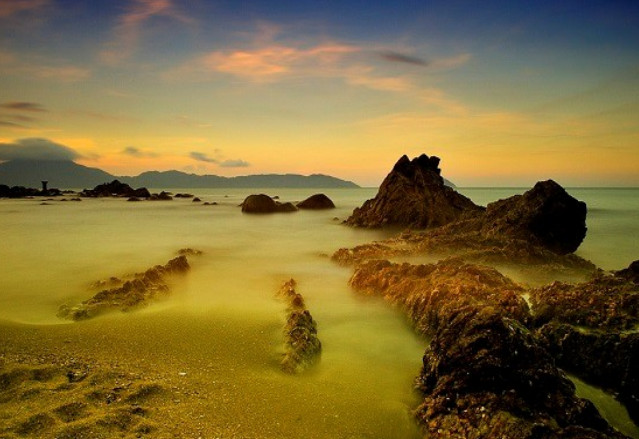 Tien Sa Port with sunset on the sea, The best moment of tourism in Da Nang
Located away from the center about 15km heading to Son Tra, Tien Sa Port is not well-known to many tourists because it is pristine and not focused on tourism. However, it is the place to visit in Danang that many local people like and choose it to be an ideal picnic destination at the weekend.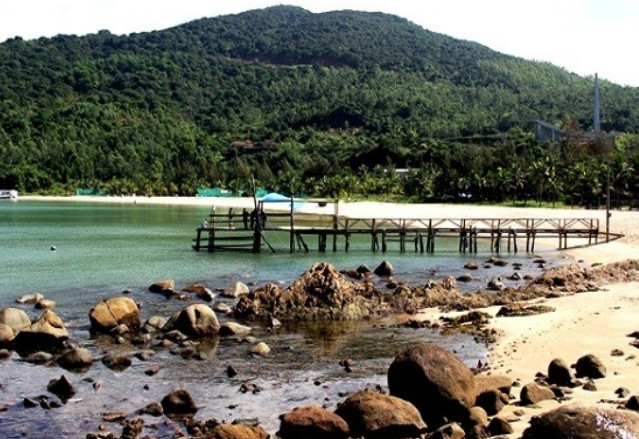 Tien Sa Port is most beautiful when sunset comes. You can go camping overnight and set fire to barbecues. Although the beach is not as cool as My Khe beach but so much cleaner and quiet.
5- Son Tra Peninsula – Monkey Mountain
Son Tra Peninsula – Monkey Mountain has many places of interest in Danang Vietnam that you cannot miss when coming there. With the pure beauty of mountain overlooking the sea, Son Tra Peninsula attracts tourists all over the world who want to travel with motorbike or bike.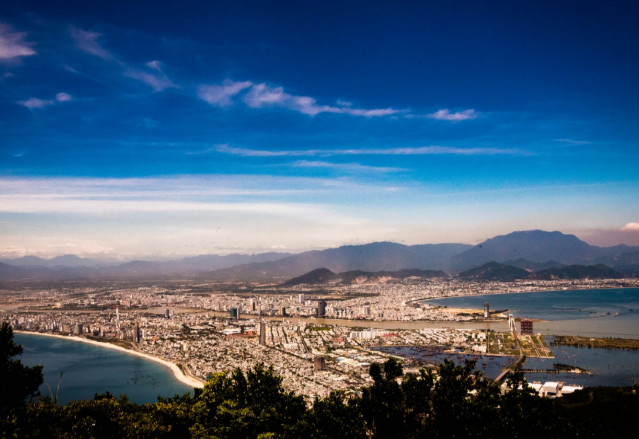 Son Tra Peninsula – Monkey Mountain: One of the best things to do in Da Nang
You can stop at Linh Ung Pagoda, then go hiking to Bai But, Bai Da, or see a private collection of artifacts from around Vietnam at Dong Dinh Museum. Going to the top of Son Tra Peninsula, you will be at Ban Co peak where all Da Nang is under your view. One of the most special things in Son Tra Peninsula is the beautiful road to the top. Imagine you drive on the road between the blue sea and the green mountain. Not only you will see the most beautiful scenes ever, but also the atmosphere is so amazing, like one day suddenly you feel free in the middle of nowhere.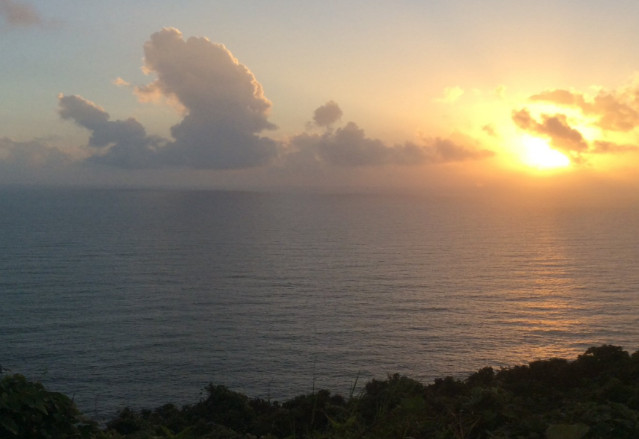 Son Tra Peninsula is also called Monkey Mountain because here is where many monkeys live.  Travelers say that Son Tra Peninsula is a must-go place in Da Nang with breathtaking views and fresh air. If you come there on sunrise or sunset, the views will be more fantastic. The best transportation you should use when coming to Son Tra is motorbike. Son Tra Peninsula will make your trip to Da Nang more perfectly.
6- Hai Van Pass
Hai Van Pass is a pass between Hue and Da Nang - a pass that wanderlust travelers often have to conquer once in life. The beauty of the Hai Van Pass can only be described most clearly through the 5 words 'touch of heaven and earth'.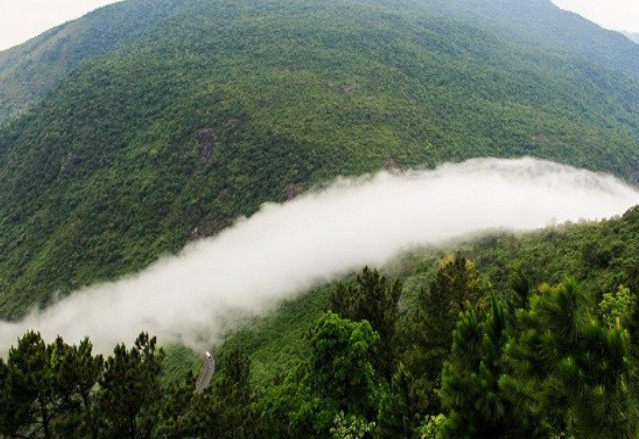 Hai Van Pass - The touching point of heaven and earth
Many young people take the train from Hue to Da Nang just to get the beautiful view of Hai Van Pass. This is also an ideal destination in Da Nang for tourists to enjoy the trip when they climb to the top and check-in between the majestic mountains and forest in front of the blue ocean. On the top of the pass on a sunny day, you will definitely no longer have to regret your youth for a second!
7- Bridge of Love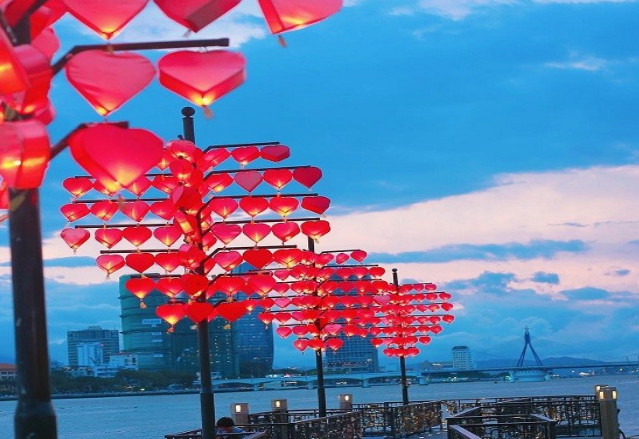 Bridge of Love - Places to visit in Da Nang for the couples
Legend has it that when the couples leave the lock on the bridge, love will be long forever. The love bridge in Europe always makes young people yearn to come to lock their love forever, and now you don' have to be jealous any more. You can just visit Da Nang and come to the Love Bridge at DHC Marina next to Dragon Bridge. Many romantic lanterns, beautiful fairy in the middle of romantic Han River decorate the small bridge. This place has become one of the most beautiful places in your trip to Da Nang where couples need to check-in.
* Other colorful bridges as Danang places of interest that you cannot ignore
Not only being famous for the most beautiful beach on the world, Da Nang also has its reputation because of many beautiful and colorful bridges that connecting the center of the city to the beach. There are totally 7 bridges there, which make Da Nang is the unique city that has the most bridge all over the country. Blow is all the colorful bridges that you must come over to see when in Da Nang.
9- Golden bridge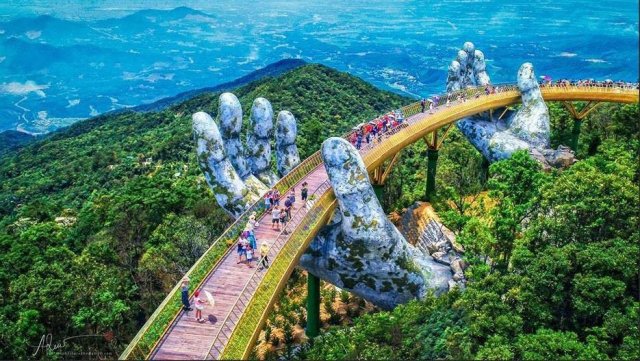 Golden Bridge, an amazing structure, was opened in June 2018 at the Bà Nà Hills Resort as part of their Thien Thai Garden attraction. The well-known Ba Na hills now seems more famous thanks to this interesting bridge.
10- Dragon Bridge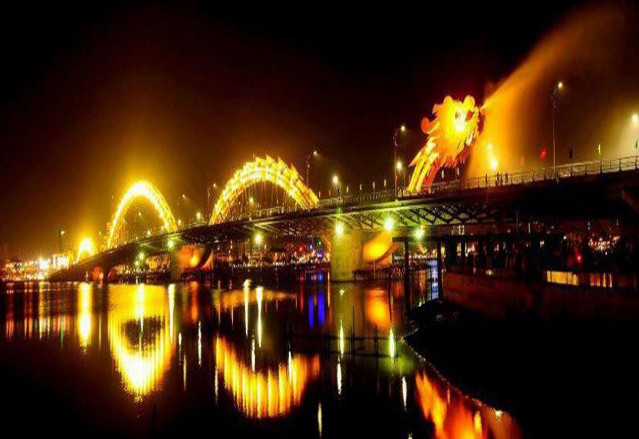 As one of the places to visit in Danang Vietnam, Dragon Bridge is the special one that make many tourists curious. Dragon Bridge is in the center of the city and very close to the airport, the train station and leading to the sea. That is why it is very easy to see this bridge when you reach Da Nang. Not only because of its beauty, but also because of fire and water spray according to a fairy tale a long time ago, many tourists come to visit this bridge. If you want to know how the fire and water spray works, let go to Dragon Bridge at 9PM every weekend (Saturday and Sunday). You will not regret to see this fantastic scene.
11- Han River Bridge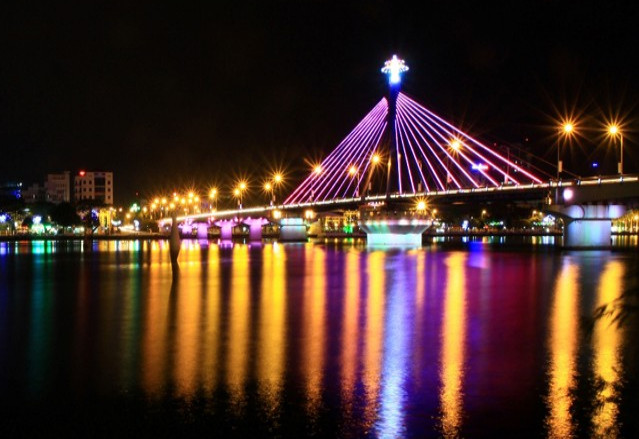 Han River Bridge is a must-go destination when in Da Nang, also one of the oldest bridges and becomes a symbol of this city. For a long time ago, Han River Bridge was made to sway in the mid-night for all the boats going through for trading. At that time, they did not know that the swaying thing now make this bridge the most special one in the country.
Thought it is no need for the boats going through anymore, but this bridge still sways to satisfy the curiosity of tourists in tourism season. Now, many tourists comes to Da Nang to see this bridge swaying every night around 12PM. It is beautiful at night when swaying that you have to see once in your life. Remember to bring your lover to see this, because someone has told that this swaying thing at Han River is for all the lovers.
12- Nguyen Van Troi Bridge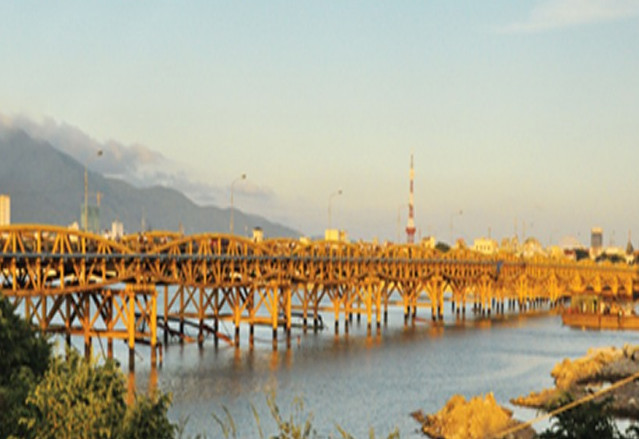 Nguyen Van Troi Bridge is the oldest ancient one in Da Nang standing beside Tran Thi Ly Bridge that maybe the tourists may not notice. Now, no transportation can run in that bridge. It becomes one of the places of interest in Danang Vietnam for people to walk and see the beautiful view of Han River, Dragon Bridge. In the morning or afternoon, many local people choose this bridge for exercises. Because of its ancient beauty, the young also come here to take outfit-of-the-day photos, pre-wedding photos, and so on.
13- Tran Thi Ly Bridge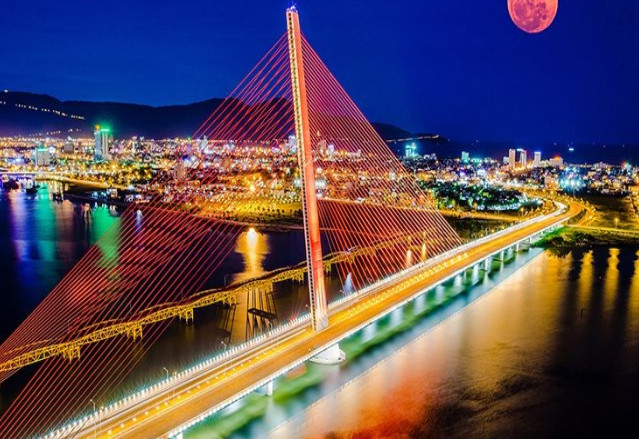 As one of the highest bridges, Tran Thi Ly Bridge is definitely the one you cannot miss when in Da Nang. This bridge is large and high enough for you to stand and see the beautiful Da Nang in your eyes. Tran Thi Ly Bridge is the road you will pass when going from the airport to My Khe Beach. With about 2 kilometers long, the bridge attracts many people every night, especially the couples who want to have a romantic night outside together.
14- Thuan Phuoc Bridge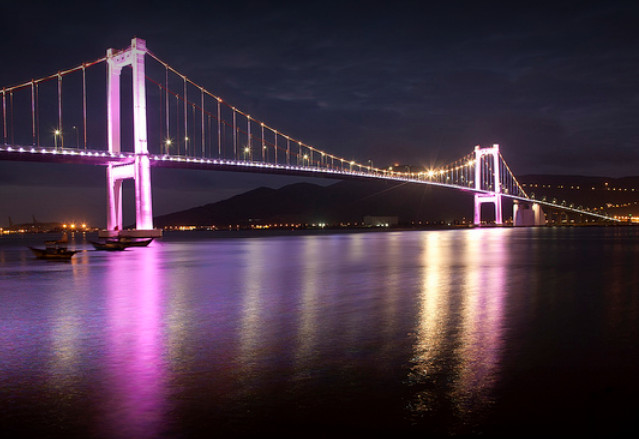 Thuan Phuoc Bridge is the highest one standing right beside the sea. When coming there, you can see the overview of the city, other bridges, Son Tra Mountain in the most beautiful way. Because of the high, this bridge is a little dangerous when you go there on a windy or rainy day. Besides that, Thuan Phuoc Bridge will give you the best shots of Da Nang place of interest that you will definitely like.