Wondering where to go in Hanoi? Here are 12 interesting destinations when you visit Hanoi, Vietnam. See what all you can explore in Hanoi city exhibiting an interesting blend of foreign French and American influences mingled with the unique Vietnamese heritage.
1. The Imperial Citadel of Thang Long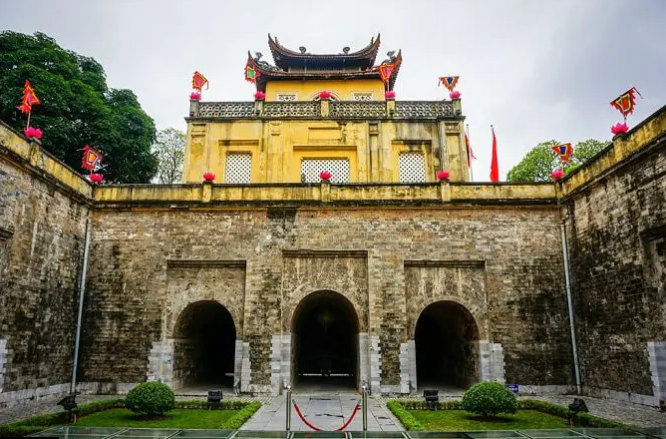 As royal as the name suggests, the Imperial Citadel of Thang Long is perhaps Vietnam's most intriguing relic denoting its historical and cultural importance.
This 40 meter high UNESCO World Heritage Site is among the best places to visit in Hanoi for its architecture as well as a powerful symbol of the history of Hanoi.
The erstwhile centre of ancient Hanoi, this citadel had served as the political centre of Vietnam for as long as eight centuries.
2. Visit the Ho Chi Minh president Mausoleum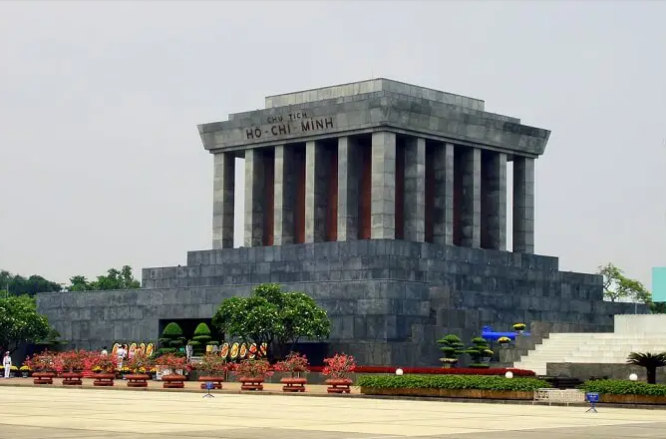 The body of Ho Chi Minh president is preserved here so people visit to see that.  The place is protected by Militiary honour guards and is a high security place. The architecture is nicely done and a lot of people visit here to pay their respects to Ho Chi Minh. 
3- Hoan Kiem Lake and Ngoc Son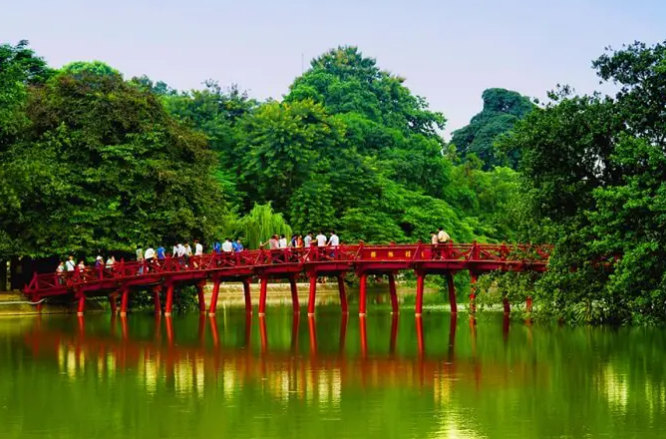 Also known as Turtle Lake, the Hoan Kiem is a central feature of Hanoi and a famous place to hangout with friends and family. What adds beauty to this lake is the Ngoc Son Temple sitting on a small island in the middle of it, linked only by a small bridge.
Other than being one of the most charming Hanoi tourist attractions, Hoan Kiem serves as a good spot for young joggers and elderly people practicing sports and line dancing during sunrise and sunset.
4- Hanoi Opera House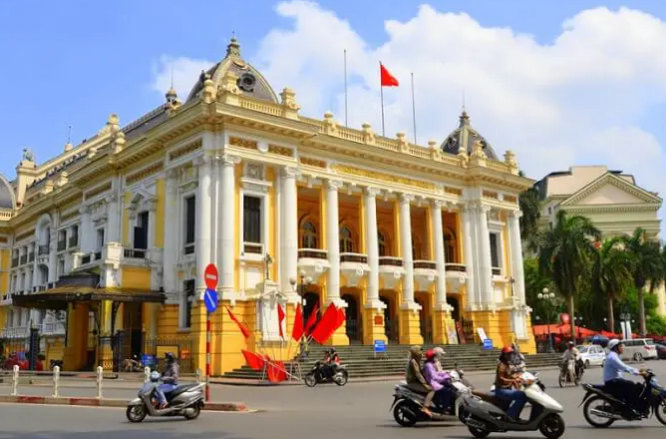 The Hanoi Opera House is among the best Hanoi attractions owing to its elegant infrastructure and Parisian charm. Modelled after its Paris counterpart, Hanoi Opera House is famed for its ivory-toned columns, ornate balustrades, and Gothic domes.
When here, guests can comfortably enjoy classical ballet performances, Vietnamese opera, dance shows, and even music concerts by world-renowned artists.
5- Temple of Literature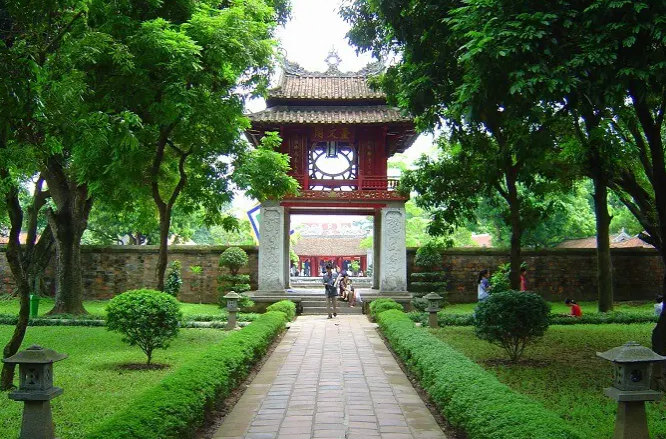 the Temple of Literature is a soothing gem in the center of Hanoi. Beautified over the proceeding years, this large temple complex with ornate pavilions, shrines, and a verdant garden has turned into a rite of passage for graduating doctors and one of the best places to visit in Hanoi.
6- See A Water Puppet Show
Every traveler's favourite, this charming theatre showcases the ancient art form of water puppetry with a twist. Water puppetry has a long been associated with Hanoi, and while there are several theatres showcasing guests this art, it is only the popular Thang Long Puppet Theatre where guests can truly enjoy this uniquely Vietnamese take on Vietnam's water puppet tradition.
7- Wander Around The Old Quarters - Hanoi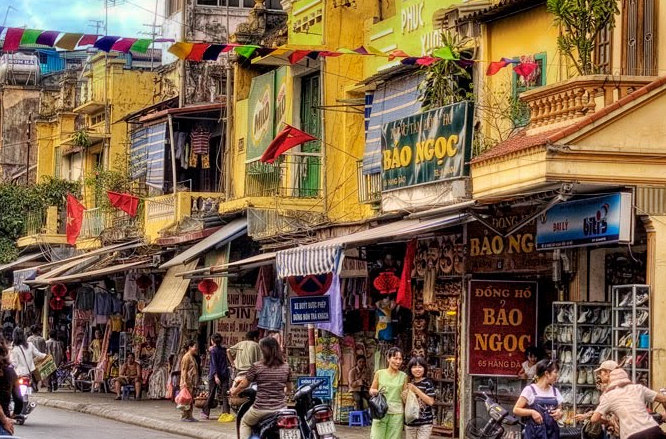 The Hanoi Old quarter is among the first place which tourists visit when in Vietnam and also the last place which they go before leaving the country.
It was previously a great place for merchants and artisans to sell the goods they create but now it has become a place of heritage for tourists. The place is quite lively and different from rest of the places in the city.
8- Go Shopping at Dong Xuan Market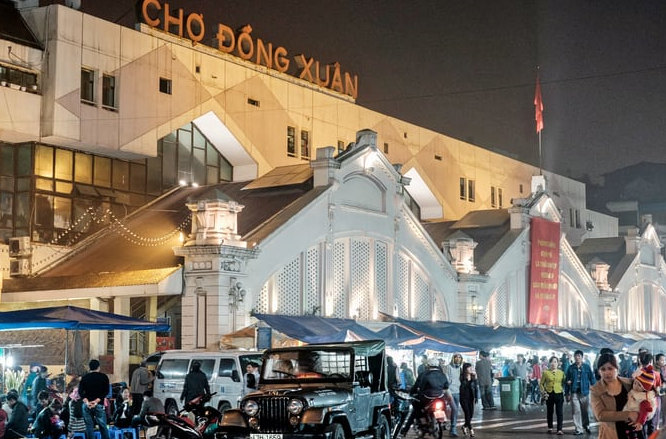 The largest of its kind in Hanoi, the sprawling complex of Dong Xuan Market is established within a four-storey Soviet-style building and offers a staggering collection of fashion, apparels, and souvenirs at rock bottom rates.
Everything from printed T-shirts, cheap sunglasses, to exotic handicrafts are available here. Without a doubt, Dong Xuan Market is your one-stop shopping destination and one of the finest Hanoi points of interest.
9- Ba Vi National Park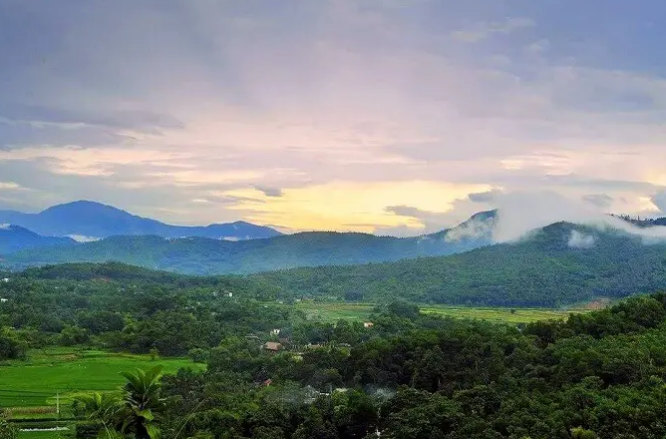 A nature reserve with unimaginable beauty till where the eyes can see, Ba Vi National Park provides as a great relief from the hustle and bustle of the otherwise frolic city of Hanoi.
The park is famed for its cloud-kissed Famous three-peaked mountain that juts steeply out into the striking blue sky and bestows travelers and hikers with dramatic views and a diverse range of flora and fauna.
A prominent part of all Hanoi tours is a visit to the 11th century temple here that offers mesmerising vistas of the surrounding countryside as well as natural hot springs for a healing dip.
10- Learn About The Hoa Lo Prison Museum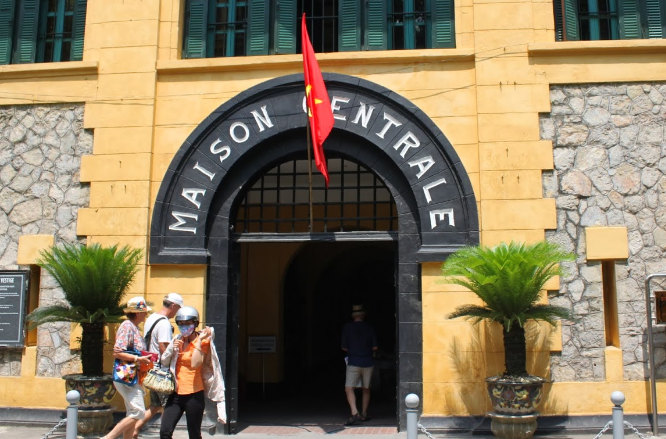 Literally meaning 'stove', Hoa Lo was nothing short of a hell-hole in the name of a prison built by the French in the 1880s to imprison Vietnamese soldiers.
Maintained till the end of the Vietnam War, it houses grisly exhibits showcasing the sufferings of Vietnamese prisoners and the brutal torture they had to endure day after day.
11- Bat Trang Ceramic Village
Bat Trang Ceramic Village is a wonderful place where you can buy a number of handicraft and pottery goods. There are a number of gift & specialty shops available in this village that is famous for offering tea sets. The quality of the goods offered at Bat Trang Ceramic Village is amazing.
This place is active in Hanoi since many years and is preferred by tourists as well. The big market area in Bat Trang Ceramic Village can be visited in order to savor some wonderful delicacies.
There are tour packages that can be accessed so as to explore Bat Trang Ceramic Village at ease. You can plan a trip with your friends or family so as to enjoy this excellent market.
12- Ho Tay Lake & Tran Quoc Pagoda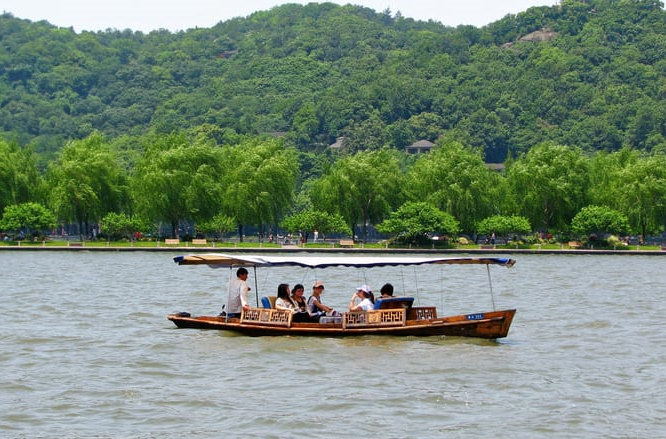 West lake is a fresh water lake located right in the center of Hanoi. This is the largest lake of the city and one of the most popular places for recreation activities as there are many kind of gardens, hotels and villas around the lake.
Tran Quoc pagoda is the oldest Buddhist temple in Hanoi so for tourists, it is a must visit spot. On the grounds here, there is a Bodhi tree under which Buddha sat and seeked enlightenment which has become a tourist place.
You can also visit some other places like: One Pillar Pagoda, The Vietnamese Woman's Museum, Vietnam Fine Arts Museum, Vietnam Museum of Ethnology, Drink "Bia Hoi" On The Street,... 
Hope you'll have exciting things with your visit to Hanoi, Vietnam!
HayHocHoi.Vn - Refer.